SPEZIA, LLC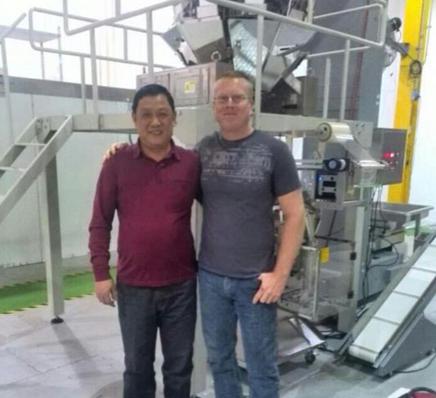 SPEZIA, LLC is an American food packaging factory that handles rice, nuts and pasta. This customer used to adopt most packaging machines locally in America and began to turn to packaging machines outside America due to the continuously extending production and high prices and maintenance costs.
In 2013, SPEZIA, LLC contacted Mingke pack and we learned about his demands. This customer required a very high output and a versatile packaging machine to handle rice, nut, potato chip and other products. We recommended type MK-420A vertical form fill seal packaging line for dry free flowing products and the 14 head multihead weigher. The customer placed a purchase order on the spot and reached our first cooperation. Later, with the expanding production, this customer has been ordering 5-10 sets packaging equipment yearly and introduced clients to us. Our engineers have also visited the customer for installation, debugging and maintaining.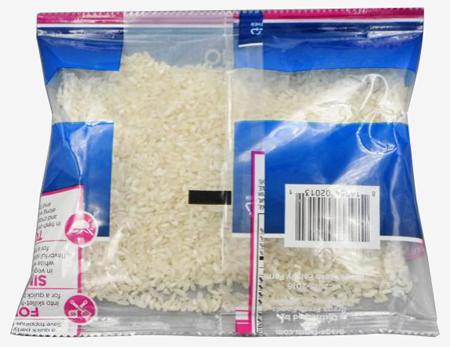 The Type MK-420A vertical form fill seal packaging line for dry free flowing products is characterized by its high precision, fast speed and strong compatibility. This packaging line produces 60 bags of rice per minute with each bag weighing 200g, fully meeting customer requirements for output. Equipped with a thermal transfer printer, the QR code and client LOGO are automatically printed on the package bags.
NUTRI Group
NUTRI Group is one of the biggest coffee producers in Columbia. Before 2016, this customer had been entrusting other factories to co-package their coffee. With the more and more coffee products and increasing OEM cost, this customer considered to establish their own coffee packaging factory.
In 2016, NUTRI Group entrusted his agency in Guangzhou to visit Mingke pack. Based on their coffee characteristics and popular coffee packaging styles in the market, we offered several packaging solutions. At the end of 2016, NUTRI Group began to cooperate with Mingke pack and ordered 10 sets packaging machines at one time, including vertical form fill seal machine MK-520A, vertical form fill seal machine, MK-SJB and vertical form fill seal machine, MK-T80. Our factory director went to Columbia for installation and debugging in person. The customer congratulated us on our attitude toward work.
Vertical form fill seal machine MK-520A and vertical form fill seal machine MK-T80 are traditional packaging machines, also the customer wanted machines at first. But after knowing that customer wanted to develop new products, we recommended Vertical Form Fill Seal Machine, MK-SJB, which is popular in the market and has novel packaging style. And this machine was greatly appreciated by the customer.
Poh Huat Furniture Industries
Over 30 years of manufacturing excellence enables Poh Huat Furniture Industries to become one of the most innovative furniture manufacturers in the South East Asia. Its holding company, Huat Resources Holdings Berhad was listed in the Malaysian Bursa Stock Exchange since year 2000.
Before our first cooperation in 2007, there were more than 20 workers engaging in manual packaging of hardware accessories in the Malaysian plant. This resulted in high labor and management costs, low packaging efficiency, and reduced packaging qualification rate.    
After visiting our factory, Poh Huat was very satisfied with our quality packaging machines. Therefore, our customer decided to purchase 2 packaging machines. After one year, several packaging machines were purchased from our company due to its expanded production capacity. Automated packaging significantly improved its working efficiency and reduced costs.
CK Pharm Co., Ltd.
Established in 1987, CK Pharm Co., Ltd. is a leading Chinese herbal medicines supplier in Korea, offering more than 700 types of Chinese herbal medicines.
After our first online communication in 2018, this customer came to visit our factory because of their great interest in our packaging machines. We learned that they were not familiar with automatic packaging industry from our first meeting. We provided them with a proper packaging solution according to their specific requirements. After several days' communication and factory visiting, our customer was very impressed with our product quality and customer service. Two vertical packaging machines were then ordered for pyramid bag packaging.   
After the machines arrived at customer factory, we assigned technicians to carry out machine trial operation and commissioning to ensure smooth and stable machine running. Due to our dedication and hard working on it, our customer highly praised our service. After that, more packaging machines were purchased by our customer to meet increasing production capacity. Till now, 12 vertical packaging machines were ordered in total.
In addition, CK Pharm recommended companies requiring packaging machines to visit our factory, and helped introduce our packaging machinery to them. We highly appreciate the trust of CK Pharm on our company.
360 Degree Fitting House Co.,Ltd.
360 Degree Fitting House Co.,Ltd. is a well-known furniture hardware company in Thailand. This customer came to visit our factory to see how the screw packaging machine works. They were very impressed with the working speed and precision. From the communication, we understood their packaging problem, that was low packaging precision caused by manual operation. Our engineers worked hard to make a customized packaging solution according to their requirements, which was highly recognized by our customer.
This customer purchased 3 screw packaging machines. Director Wang was assigned to provide onsite machine commissioning service. During the period, Director Wang shared a lot of experience from the same industry makers to them, greatly contributing to improving their management in the factory.
Therefore, our customer was very satisfied with our equipment and service. After 3 months, they purchased our packaging machines once again. So far, 10 packaging machines were totally ordered.