Vertical Bagger, Type MK-520T Packaging Machinery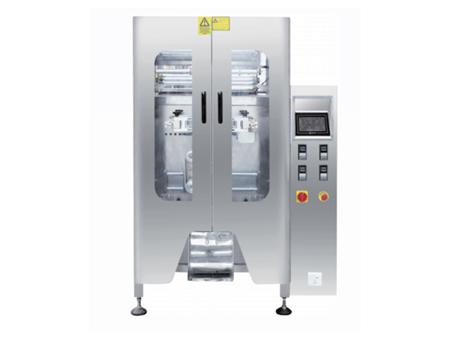 The Type MK-520T vertical bagger can create quad seal bags with a width within 25cm. This vertical bagger can be combined with a multihead weigher, linear weigher, cupper filler, auger filler and liquid filler to form different auto packaging systems. The packaging systems can manage the auto packaging of granule, power, liquid, pasty liquid and so on. Moreover, the quad seal bag appears more eye-appealing than the ordinary stand-up pouches, causing increased additional value of the products.
Packaging bag materials
OPP/CPP composite film, OPP/CE composite film, MST/PE composite film, PET/PE composite film, aluminum foil.
Packaging bag styles
Parameters
Type: 520T
Packing speed: 10-50bags/min
Bag size: L:80-350mm W90-250mm
Measuring range: 150-1300ml
Max film width: 520mm
Film thickness: 0.04-0.10mm
Air consumption: 0.6m³, min 0.8MPa
Power source: 4KW/220V 50-60Hz
Weight: 750kg
Overall size: 1600x1240x2000mm
Weigher options
Multihead weigher: adaptable to a wide range of granular, sheet, strip and irregular items such as candy, potato chip, jelly, boiled dumpling, nut and so on.
Linear weigher: ideal for fine uniform granules like seeds, white sugar, washing powder, etc.
Auger filler: applicable to the packaging of powdered products with a mesh below 100, including milk powder, bean powder, albumen powder, ground coffee, flour, etc.
Measuring glass: suitable for uniform fine granules such as fodder, salt, white sugar, desiccants and so on.
Liquid filler: applicable to the packaging of liquid, pasty liquid and sauce like liquid shampoo, wash body, face cream, tomato sauce, honey, etc.
Structural drawing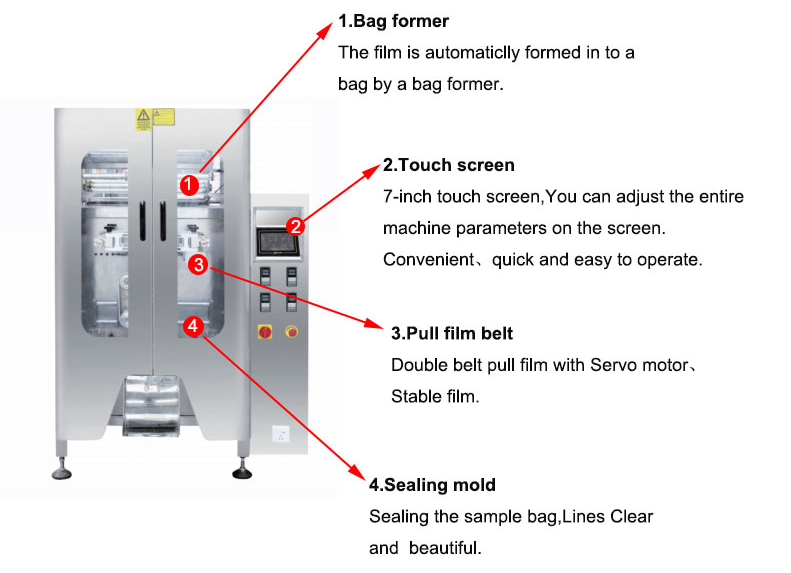 Additional Options
Packaging line feeder
Finished package conveyor
Weight checker
Metal detector
Ribbon printer