Vertical Form Fill Seal Machine, MK-60FXR Packaging Equipment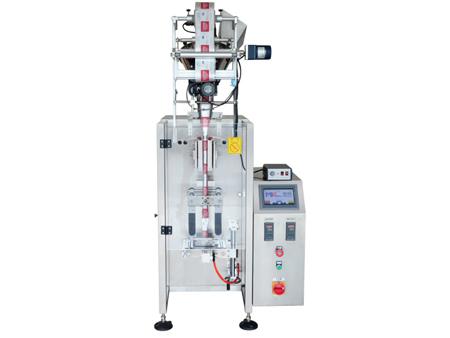 The MK-60FXR vertical form fill seal machine adopts a touch screen control system for automatic optimal matching of various operations after setting the fill product weight and bag length, realizing optimized packaging speed. Controlled by servo motor, this packaging equipment allows for more accurate film pulling and produces more eye-appealing packages. MK-60FXR packaging equipment is suited for packaging milk powder, bean flour, albumen powder, coffee powder, flour and so on.
Packaging materials
Composite film/ polyethylene, polyester/aluminum foil/ polyethylene, nylon/ polyethylene, aluminum foil, etc.
Bag styles
Parameters
Type: MK-60FXR
Packing speed: 30-60bags/min
Bag size: L:40-160mm W:30-110mm
Measuring range: 0.5-80ml (optional screw feeder depending on the packaging products)
Max film width: 240mm
Sealing type: back seal (round corner)
Power source: 1200W/ 220V、380V/ 50-60Hz
Weight: 280kg
Overall size: 800x700x1800mm
Structural and detail drawings
Additional Options
Packaging line feeder
Finished package conveyor
Ribbon printer
Thermal transfer printer