Vertical Form Fill Seal Machine, MK-LS1 Counting Packaging Machine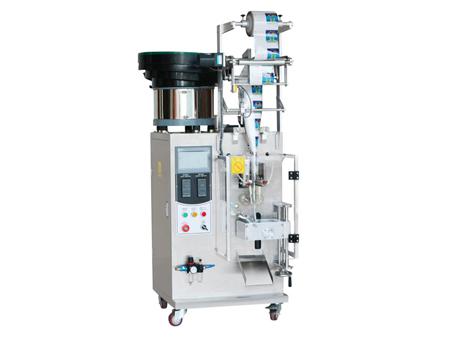 The MK-LS1 vertical form fill seal machine has a single vibration bowl feeder, making it applicable to the counting and packaging of single hardware fittings, plastic parts, electronic devices, and more. It is able to carry out arrangement, counting, bag forming, filling, sealing, cutting, and other applications. For customization requirements, please do not hesitate to contact us.
Packaging materials
OPP/CPP、PET/PE and other heat sealable film, PE film
Bag Styles
Back seam bag

3-side seal

Strip sachets
Parameters
Type: MK-LS1
Max film width: 240mm
Voltage: 110V/220V/380V 50HZ/60HZ
Power: 1500W
Packing speed: 5-50bags/min (depending on packaging products)
Bag size: L:40-160mm W:20-110mm
Film thickness: 0.04-0.08mm
Air consumption: 0.4m³/min 0.4-0.6MPa
Weight: 280kg
Overall size: 800x970x1700mm
Features
The vibration bowl feeder is imported from Taiwan, and is exceptionally reliable and durable. Equipped with a Japanese Keyence, the counting accuracy is up to 1/1000-1/3000;
The V-type vibration bowl is applicable to a variety of materials, giving it an excellent compatibility and ability to meet most market packaging requirements. The high quality PU adhesive coated vibration bowl lowers noise levels.
An automatic frequency controller allows for the vibration frequency to automatically adjust according to the filling weight, resulting in a uniform material conveyance and increased weighing accuracy.
An automatic rejection device removes the unqualified products before they enter the packaging machine.
Structural drawing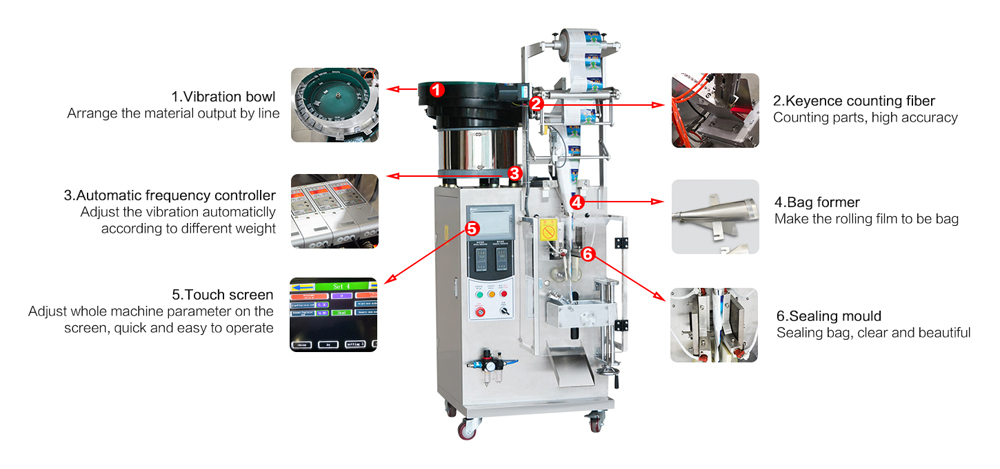 Weighing options
Vibration bowl feeder + slideway: for packaging screws within 5 pieces or hanging materials, uses travel counting.
Vibration bowl + transverse feeding slideway + counting fiber: is ideal for counting screws with large quantity or the supsendable items.
Vibration bowl + counting fiber: suit to the counting of hardware or plastic parts without screw caps or non-hanging or irregular products.
Additional Options
Storage hopper: store materials and fill the vibration bowl to ensure materials inside the bowl remain uniform.
Finished package conveyor: convey the finished packages to the downstream weight checker or support platform.
Weight checker: Inspecting or weighing the materials, automatic counting, automatic rejecting unqualified products.
Printer: Imprint date, LOGO and QR code on the packaging bags.